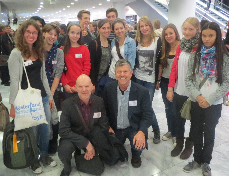 Di Bucherfresser (the Bookeaters), the Munich-based group that first championed ADIOS, NIRVANA
ADIOS, NIRVANA and Conrad's Germany tour
In early 2013, ADIOS, NIRVANA was nominated for Germany's top prize for young-adult literature--the Jugendliteraturpreis.
That October, I found myself on a whirlwind tour through Germany--seven speaking gigs in nine days. I dashed between cities on the ICE (Inter-City Express), the high-speed train linking Germany's major cities. I skimmed across green landscapes from Hamburg to Munich, Munich to Cologne, Cologne to Dortmund, Dortmund back to Cologne, Cologne back to Frankfurt. Plus, a sortie to the Bavarian Alps, where I spent the day touring Ludwig II's (or was that Walt Disney's?) castle, with a nice hike in the hills.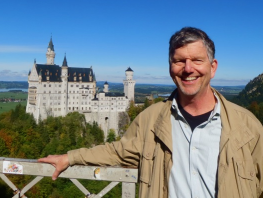 Along the way, I met lots of German students and fellow book lovers.
At every stop, my German publisher Carlsen Verlag treated me like a prince. I didn't win the big prize--that honor went to John Green for his YA novel THE FAULT IN OUR STARS.
The big group shot shows Di Bucherfresser (the Bookeaters), the Munich-based group that first championed ADIOS, NIRVANA. The man beside me is Karsten Singelmann, whose translation of ADIOS, NIRVANA made the nomination possible.
---
Art helps characters heal in YA fiction
"Each time we take a step closer to who we really are we get stronger."
Lois T. Stover is the chair of the educational studies department at St. Mary's College of Maryland. Her upcoming book Portrait of the Artist as a Young Adult:
Who is the Real Me? (with co-author Connie S. Zitlow) examines the healing value of the arts in young-adult literature. Conrad Wesselhoeft was among the authors she interviewed for the project. Click here to read an excerpt of their discussion. (PDF format)

(Note: Adobe Acrobat Reader is required to open this file. Click here to download.)
---
Quick links:
Conrad's blog and website at www.adiosnirvana.com
---


A delightful reading from Adios, Nirvana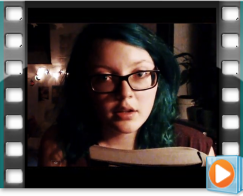 "Most people trying to write poetry don't get it. They build on fuzzy ideas like anarchy or love. But that's like throwing a punch at the wind. You can't connect. You have to build your poem on images, and tilt those images at your own angle. If you're lucky, they'll come alive. Take two images.
"Girl falls asleep on a Greyhound bus.
"The moon rises.
"By itself, the moon rising is nothing. It's a cliche. But the girl falling asleep and missing the moonrise is everything. It blasts the poem with pain and possibilities. Figure out what those possibilities are and you've got a poem. That's the secret -- to close your hand on jagged glass, then open it and find a butterfly."
---
DIRT BIKES, DRONES, AND OTHER WAYS TO FLY is a 2014 Junior Library Guild selection.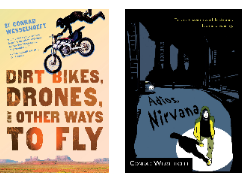 DIRT BIKES, DRONES, AND OTHER WAYS TO FLY has landed on Air & Space/Smithsonian's 2014 list of Best Aviation and Space-Themed Books for Young Readers. The list--which will be published in December--is an annual roundup of children's and YA titles that focus on flying.