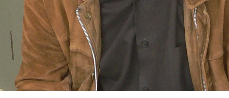 Conrad's Top Ten favorite books:
---
The Sun Also Rises Ernest Hemingway
Island of the Blue Dolphins Scott O'Dell
On the Road Jack Kerouac
Education of a Wandering Man Louis L'Amour
A Diary of the Century Edward Robb Ellis
Martin Eden Jack London
Unbroken Laura Hillenbrand
My Early Life Winston Churchill
A Third Face Samuel Fuller
My Wicked, Wicked Ways Errol Flynn)
---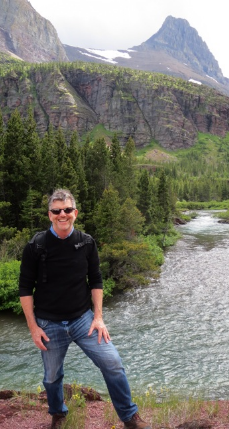 The author on the Red Rock Trail at Glacier National Park, MT.
Conrad Wesselhoeft worked as a tugboat hand in Singapore and Peace Corps Volunteer in Polynesia before embarking on a career in journalism. He has served on the editorial staffs of five newspapers, including The New York Times.

He began to write for young adults after meeting the acclaimed YA novelist Scott O'Dell (ISLAND OF THE BLUE DOLPHINS). "Scott was eighty-five—more than fifty years older than I," Wesselhoeft said. "He was still very active and disciplined as a writer and critiqued my early efforts at writing YA fiction. He taught me many things about writing, but one stands out: Writing is about perseverance--never give up."
ADIOS, NIRVANA was nominated for Germany's highest literary prize for YA literature, the Jugendliteraturpreis. The 2016 "Ultimate Guide to Seattle" ranks it one of the best young-adult novels from and about Seattle.
DIRT BIKES, DRONES won the 2014 "Reading the West" award presented by the Mountains and Plains Independent Booksellers Association.
Wesselhoeft's ancestors were homeopathic doctors to a host of literary luminaries, including Emily Dickinson, Louisa May Alcott, Ralph Waldo Emerson, and Harriet Beecher Stowe. His three children are in various stages of university study or career exploration. He lives in West Seattle with a poodle named Django.
Something about Conrad
Biographical article about Conrad Wesselhoeft in Something About the Author, a sourcebook for students, teachers, and librarians published by Gale. (PDF file, opens in a separate window)
"Literary Merlins"
A letter to the reader from Conrad Wesselhoeft:
Dear Reader,
Some literary Merlin must have touched his wand to my family tree, because many of my ancestors have crossed paths with famous writers, poets, and statesmen. For example:
• My great-great-great grandfather Karl Wesselhoeft was the publisher and close friend of the German literary icon Johann Wolfgang von Goethe, author of "Faust," the classic tale of a man who makes a pact with the devil in exchange for knowledge. (Napoleon Bonaparte's troops torched Karl's publishing house during the Battle of Jena, in 1806.) Two of Karl's sons, William and Robert, worked as field hands on Goethe's farm.
• Both of those boys eventually immigrated to the United States and became early practitioners of homeopathy, a new and controversial form of medicine. Settling in Boston, Robert (my great-great grandfather) soon fell into disfavor with the established medical community. In a much-publicized scandal in 1842, the poet and physician Oliver Wendell Holmes, Sr., denounced him as a quack and basically ran him out of town. Joining the fray was Nathaniel Hawthorne, who satirized the dispute in his novel "The Blithedale Romance," which features a professor with "artifice" in his eyes and a "metallic laugh" named "Westervelt."
• Dr. Robert Wesselhoeft eventually settled in Brattleboro, VT, and opened the "Wesselhoeft Water Cure," where business thrived. His patients included Ralph Waldo Emerson, Henry Wadsworth Longfellow, and Harriet Beecher Stowe.
• Robert's older brother, Dr. William Wesselhoeft, served as personal physician to poet Emily Dickinson and her family.
• Robert's oldest son, Dr. Conrad Wesselhoeft, also a homeopath, served as physician to Louisa May Alcott, who dedicated her last novel "Jo's Boys," a sequel to "Little Women," to him.
• In the 1840s, the famed statesman Daniel Webster paid seasonal visits to the Crocker Tavern in the Village of Barnstable, on Cape Cod, where he befriended a young barmaid, my great-great grandmother Deborah Lewis. Near the end of her long life, Deborah revealed in letters to her daughter that she and Webster had enjoyed private buggy rides to the sand dunes. Webster would have been in his sixties, Deborah in her late teens. Hanky-panky—or no hanky-panky? That's the question generations of our family have debated.
• Fresh out of Harvard, Robert's middle son, Reinhold Wesselhoeft, and classmate Oliver Wendell Holmes, Jr., served together as second lieutenants in the Union Army. Their regiment—the Massachusetts 20th Volunteers—was shot to ribbons at the Battle of Ball's Bluff in 1861. Holmes, a future U.S. Supreme Court justice, was severely wounded; Reinhold drowned in the Potomac River. (Reinhold's portrait hangs near my writing desk. I write under his eternally clear-eyed gaze.)
• My great-grandfather, George Lyman Kittredge (Deborah Lewis' son, born eight years after Webster's death), taught Shakespeare at Harvard University to several generations of students, among them Franklin Roosevelt, Thomas Wolfe, Robert Benchley, Sean O'Faolain, William S. Burroughs, and folklorist John Lomax.
• Henry Kittredge, George's son and my great uncle, wrote a popular series of Cape Cod histories, including "The Mooncussers" and "The Shipmasters." Equipped with a friendly flask, Henry loved to comb the Cape beaches looking for anything that washed ashore. A favorite companion on these jaunts was a young writer named Kurt Vonnegut, Jr.
I myself have had the pleasure of meeting quite a few writers. The one who steered me in the direction of writing for young adults was Scott O'Dell, author of "Island of the Blue Dolphins," "Sing Down the Moon," and many more. When we met, Scott was eighty-six—more than fifty years older than me—and still very active and disciplined as a writer. He liked to quote Anthony Trollope, the great English storyteller, on the craft: "The most important thing a writer should have is a piece of sticking plaster with which to fasten your pants to a chair." He added: "Writing is hard, harder than digging a ditch, and it requires patience."
In writing ADIOS, NIRVANA and DIRT BIKES, DRONES, AND OTHER WAYS TO FLY, I spent many long months with my pants fastened to a chair, digging ditches.
I hope that Merlin left a little magic in that wand for me, and that you'll enjoy my stories.
With best wishes,
Conrad Wesselhoeft
West Seattle
DIRT BIKES, DRONES, AND OTHER WAYS TO FLY is a 2014 Junior Library Guild selection.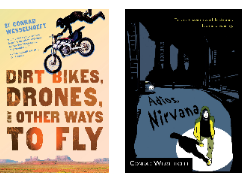 DIRT BIKES, DRONES, AND OTHER WAYS TO FLY landed on the Air & Space/Smithsonian's 2014 list of Best Aviation and Space-Themed Books for Young Readers. The list is an annual roundup of children's and YA titles that focus on flying.